In order to highlight the amazing local businesses in Florida's 47th District, the Anna For Florida campaign has launched "47 Means Business," an ongoing blog series to spotlight local business owners in Lake Eola, Downtown Orlando, Winter Park, and throughout the district.
Our blog digs deeper into local businesses by collaborating with business owners to showcase their success and to identify what the legislature can do to support them. Together, these profiles come together to create a larger picture of the amazing diversity and ingenuity of local business owners that Anna will serve and represent in the Florida House.
This week, our spotlight is shining on Beth Hobart of Mainframe Real Estate. Beth is a powerhouse in the Orlando real estate community and has received several accolades and served as a board member of prestigious organizations in Orlando. Beth has left her mark on the Orlando community by helping residents through pivotal moments in their lives by connecting them to their perfect homes. She is the number-one Realtor for closed sales at Mainframe Real Estate, and always aims to leave a positive and lasting impact on her local community!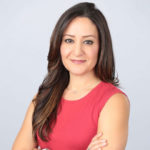 Beth Hobart of Mainframe Real Estate
What do you enjoy most about being a realtor?
I have been selling real estate since 2005, and have sold almost 400 properties since then. What I love most is being part of someone's story. I get to help people at pivotal moments in their life; their first home, when they are getting married, having kids, getting divorced and starting over, upsizing, downsizing, retiring, etc. These are moments that I get to share with people, and these moments are priceless to me and moments that I will never forget and that I am honored to share.
What services do you provide for someone looking for a home?
We are a full service real estate team. We help our sellers list and sell their homes, with custom marketing plans specifically for that client, including staging, professional photography, videography and more. We also help buyers find and purchase new homes, and connect them to resources for everything from lenders to insurance companies to contractors. In both cases, we provide consultations right from the beginning, so our clients know what to expect from start to finish. We make sure to communicate every step of the way with info emails that include deadlines and next steps, all while handling the details, absorbing all the stress, and providing solutions to any complex problems that arise. We do all of this so our buyers and sellers don't have to worry about a thing.
What was your career path? How did you become a successful business owner?
I graduated from UCF with a degree in advertising and public relations, and worked as an art director for an ad agency for many years before getting into real estate. Ironically it was was when I creating marketing materials for a real estate company, and attending conferences where my materials were passed out, that I realized the sales team was terrible; salesy, pushy and unprofessional. I was sure that I could do a better job just by being myself and putting the client first. From there, I got my license, struggled for a few years with lots of mistakes, failures and setbacks, and then struggled even more when the market crashed in 2008 / 2009. My husband, Jim, and some of my real estate mentors pushed me to keep going, and not give up. I learned a lot through those really tough times, and it has made me a better realtor.
What excites you about your job?
Every day is different, filled will challenges and opportunities. My team and I share the desire to do things differently, and make a difference in our community, and that is what inspires me every day.
You are a leader in the Orlando real estate market and are a board member of of the City of Orlando Historic Preservation Board and the Orlando City Foundation. How important is community engagement to you?
My community is everything to me. I live, work and play here, and want to give back and help any way that I can.
What inspired you to start your small business?
Back in 2005 someone said to me: "You have great attention to detail, empathy, and love to take care of people. You would be great at sales. You should get your real estate license."
At the time, I was working for someone else behind a computer every day, and I wanted to work face to face with people, and know that I am making a difference. I went with my gut, and moved forward! The rest is history!
What is the most exciting part about owning and operating a small businesses?
It's what I tell my team all the time… the sky is the limit! Whatever creative ideas we want to implement, we can do, we just have to take action.
Every day is different, and there are many challenges. I am inspired by my team, making sure that they are happy and feel empowered to be part of every decision and every move we make, and know that every success is shared. I love knowing that I am in charge of my own destiny, and that my success is a direct result of the time and attention I put into each day.
Are there any current policy issues impacting your business? If so, how?
I think the changes to the tax code will have an impact, but we are not sure in what capacity yet. Congress has been dragging their feet to overhaul the National Flood Insurance Program (NFIP), and if they get rid of subsidies, increase rates and cut the risky properties from the program, that will hit homeowners hard, as coverage on these properties will become unaffordable or unobtainable. That would make a home's value plummet, which would impact a homeowner's equity. This would have a direct impact on the housing market. Another issue that I am seeing is that counties are beginning to crack down on homeowners Airbnb-ing their homes. If the homeowners can't get the benefit of vacation rental pricing, then they might be forced to sell, and that will have an impact on the housing market as well.

For more information about Beth Hobart and her real estate business, visit