Dear Friend, 
As 2019 comes to a close, we are thrilled to bring you 19 Moments of 2019 to highlight (in no particular order) just a few of our favorite moments from this year. 
We also wanted to make sure you saw both The Nation Magazine and Florida Politics highlight us as an effective lawmaker in 2019! 
Thank you, House District 47, for trusting us to serve. We'll see you in 2020! 
Onward,
Representative Anna V. Eskamani
#1: LEGISLATIVE SESSION 2019
Late 2018 we were sworn into the Florida House and on Monday, March 5th, we joined fellow lawmakers in Tallahassee to begin our first legislative session. Our team was prepared to be vocal, authentic, and effective, because you did not elect me to attend ritzy parties: you elected me to be a fighter, a happy warrior.
We brought that energy into the Florida House from day one and have never compromised on our steadfast values to do good and work hard for the people of Florida.
#2: DEFENDING HOME RULE
House District 47 is home to incredible cities that we are proud to support and protect through our fierce advocacy for local control. That's why we were humbled and proud to be recognized as a Defender of Home Rule by the Florida League of Cities and have continued to be a strong voice for our cities in the Florida Legislature.
#3: ADVOCATING FOR REPRODUCTIVE FREEDOM
Protecting reproductive freedom and access to abortion is core to who we are. That's why when our Republican colleagues attempted to ban abortion in Florida, we stood shoulder-to-shoulder with advocates from across the state to say #StopTheBans. 
To this day Florida is the only state in the southeast that has not passed some sort of legislation to ban abortion, and we'll keep fighting to make sure it stays that way while advocating for increased access to contraception, comprehensive sexual health education, along with pre-natal/post-natal care services and adoption. We'll continue to advocate for HIV prevention too, along with access to PrEP and PEP.
#4: CELEBRATING THE IRANIAN NEW YEAR IN TALLAHASSEE
I am proud to be the first Iranian American elected to any public office in Florida, and to share parts of our culture with the world! That's why in 2019 we were thrilled to host the first-ever Persian Day at the Capitol and celebrate "Norooz", our New Year, in Tallahassee! Our efforts to bridge cultural divides was featured on the front page of the Tallahassee Democrat, and in USA Today! 
A part of this New Year Celebration is jumping over fire, which we did back in House District 47 but not in the Capitol.
#5: HOOPS DAY 2019
When an intern was told that hoop earrings were seen as "unprofessional" in the legislature, we decided to invite wearers of all cultural backgrounds to style their earlobes with their hoops of choice! Thus, the first ever bipartisan #HoopsDay was born, and celebrated by lawmakers, staff, interns, and advocates from across the country, including Congresswoman Ayanna Pressley! Wearers shared their #HoopStory to keep the conversation around cultural pride going, too.
#6: HOUSE DISTRICT 47 OFFICE OPENING
A big part of what we do each and every day in House District 47 is deliver constituent services. Our phone, email, and social media channels receive constituent concerns constantly, and so does our District Office!
Located in the heart of our community off Concord Street, we were thrilled to officially open up our office early this year and have been seeing and serving constituents from our office ever since.
#7: WINS FOR AFFORDABLE HOUSING
Affordable Housing has always been one of our biggest priorities.
Our first session we fought unapologetically to protect the Affordable Housing Trust Funds, and sponsored legislation to expand Tiny Homes in Florida law.
We were effective in both—though funds were still raided from the Trust Funds in 2019 they were less raided when compared to past years and Tiny Homes will be added to the Florida Building Code next year, too.
We still have a LOT of work to do when it comes to housing, especially with protecting state trust funds and renters' rights. We are proud of our past success with issues on housing and are committed to continue this fight. 
#8: SUPPORTING EFFORTS TO CURB HUMAN TRAFFICKING & DOMESTIC VIOLENCE
Florida ranks third in U.S. in human trafficking cases reported by states. We are proud to be intersectional advocates in the fight against human trafficking, and to have brought back $100,000 in the 2019 state budget for the Lifeboat Project, a local nonprofit organization that provides safe houses and transitional homes to survivors of human trafficking. 
Meanwhile on the domestic violence front, we took on the Florida Coalition Against Domestic Violence for their serious lack of transparency, which soon led to the sudden retirement of their longtime CEO. We will continue to advocate for government transparency of all agencies, especially those that directly impact the lives of vulnerable community members.
#9: INCREASING FUNDING TO ARTS & CULTURE
We knew going into the 2019 Legislative Session that increasing arts and culture funding would be one of our biggest priorities, as Florida ranked 49 out of 50 in arts and culture funding and nonprofits across the state were suffering as a result.  
In January 2019 we hosted our first ever town hall that focused on arts and culture funding – it attracted 300 people, and mobilized Floridians from across the state to become advocates. I then wrote an op-ed on the topic, and when we got to Tallahassee we built relationships with our Republican colleagues, and found common ground on this issue, leading to an 800% increase in arts and culture funding, moving Florida from 49th in the nation to 21st.
We continue to advocate for additional funding and are proud of the progress we have made already!
#10: HONORING PULSE & FIGHTING FOR EQUALITY
HD47 is home to Pulse nightclub, where we lost 49 mostly LGBTQ people of color to gun violence. We are proud to be advocates for equality, diversity, and gun safety. That's why the first bills we've filed for both the 2019 session and 2020 session have been focused on these issues; and that's also why we held the Governor accountable when he did not mention LGTBQ people in his Pulse proclamation on June 12, 2019. 
The result of our advocacy? The Governor's office quickly issued a new proclamation, and he along with the First Lady made an unannounced visit to the nightclub where we greeted them and urged them to support equality efforts.
We continue to be strong advocates for LGTBQ equality, and are bold in our efforts to take on the NRA and pass meaningful gun safety legislation.
#11: HD47 TOWN HALLS & COMMUNITY EVENTS
This year we hosted 17 town halls!
This includes four legislative debriefs across House District 47, one arts & culture town hall, one affordable housing town hall, one Women's Equality Day legislative forum, one Interfaith Listening Session, one student town hall with the Pride Student Association at UCF, one joint town hall with Representatives Amy Mercado and Carlos Guillermo Smith and many more!
We also participated in five digital town halls focused on different issues, and four presentations to our constituents in assisted living communities. On top of all this community engagement hosted by our Legislative Office, we also participated in more than 90 events hosted by our community partners.
We are PROUD to be active and engaged in House District 47, and to be accessible to each one of you!
#12: SUPPORTING SMALL BUSINESSES & HIRING LOCAL
We love our small businesses in #HD47, and advocate for an economic system that treats all workers fairly and allows for small businesses to start and grow.
Some of our favorite moments in 2019 were welcoming and supporting new businesses to our district—like cutting the ribbon with Cat Café or helping Indigo Float navigate what can be cumbersome state laws.
We are also proud to work with nonprofits to encourage businesses to hire locally, whether it be through organizations like UP (United Against Poverty) or through groups like Best Buddies that help Floridians with intellectual disabilities gain independence. Here's to our small businesses, local talent, and to the organizations that help build that talent!
#13: FIGHTING FOR PUBLIC EDUCATION
We are passionate advocates for public education—whether it's paying teachers better, stopping the arming of teachers or efforts to privatize public education – we are so effective in our efforts to protect public education that we were actually removed from serving on an education committee!
But not to worry—that won't stop us from being authentic, vocal, and effective for our students, teachers, and families and we've already sponsored and cosponsored legislation to support public education in 2020.
#14: #BAHAMASTRONG & SUPPLY DRIVES
We are committed to giving back to our community as much as you have given to us! This year we hosted three major supply drives, including one for back to school clothes that we hosted with the nonprofit UP, and another with the National Diaper Bank Network where we collected thousands of diapers for a local diaper bank. 
We also collected more than 40,000 lbs of hurricane relief items for the Bahamas. Our #BahamaStrong drive was an incredible reflection of how giving Central Florida is, and it was wonderful to work with companies like ACE Relocation Systems who helped us transport items, too.
#15: TRAINING NEXT GENERATION OF LEADERS
This year our Legislative Office supported the advancement and growth of 44 interns! 
These interns will be Florida's next generation of leaders, and we are proud to work alongside high school and college students as they learn to become effective and impactful public servants. It's been incredible to connect with students throughout Central Florida, and local youth organizations too, like the Girl Scouts and Boy Scouts!
Many thanks to our intern family, both in Orlando and Tallahassee. We are forever grateful for your engagement and excited for your future!
#16: LEADING ON CRIMINAL JUSTICE REFORM
This year we dived deep into issues impacting Florida's criminal justice system.
We've made surprise visits to state prisons, toured juvenile justice programs and detention centers, met with inmates and their families, connected with police, professors, nonprofit leaders, advocates, judges, and correctional officers. 
We've advocated in support of rights restoration and Amendment 4, we've sponsored reform bills, debated the issue with colleagues, and have found bipartisan solutions for the state to pursue. 
We're hopeful to accomplish meaningful policy change on criminal justice reform in 2020, and our proud of our work in amplifying the issue in 2019.
#17: FIGHTING FOR OUR ENVIRONMENT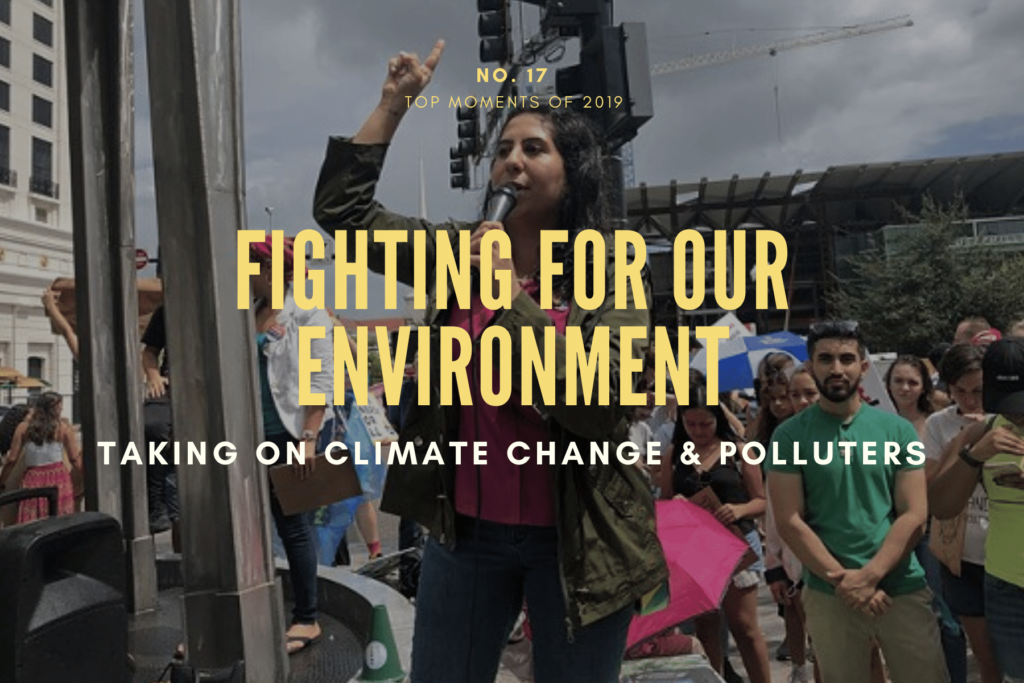 You will not find a more passionate advocate for the environment than you will with us.
From leading the state on clean energy policy, to taking on the Public Service Commission, hosting a bipartisan Turtle Walk alongside UCF, voting down on unnecessary toll ways, and challenging Nestle's efforts to pump more water from Florida's Springs – some of our favorite moments in 2019 revolved around protecting Florida's environment and challenging those who make a profit off our precious natural resources.
We're proud to dive deep into the weeds on environmental policy and will continue our efforts in 2020 and beyond.
#18: BIPARTISAN ADVOCACY
We are firm believers in building bridges when you can, and in disagreeing without being disagreeable.
That's why 2019 was a year of bipartisanship for us. We hosted a #BipartisanFL Twitter Town Hall with Representative Chris Latvala and joined Representative Tyler Sirois for a Civility Brevard event focuses on finding common ground. We hosted a bipartisan Turtle Walk with Representative Randy Fine, and co-sponsored numerous Republican bills.
We stood hand-in-hand with Republican colleagues to fund arts and culture funding, and most recently on issues to reduce prescription drugs. We're proud of our bipartisan leadership and will continue to treat our colleagues –- no matter their political persuasion — with love and respect.
#19: SUPPORTING OUR CONSTITUENTS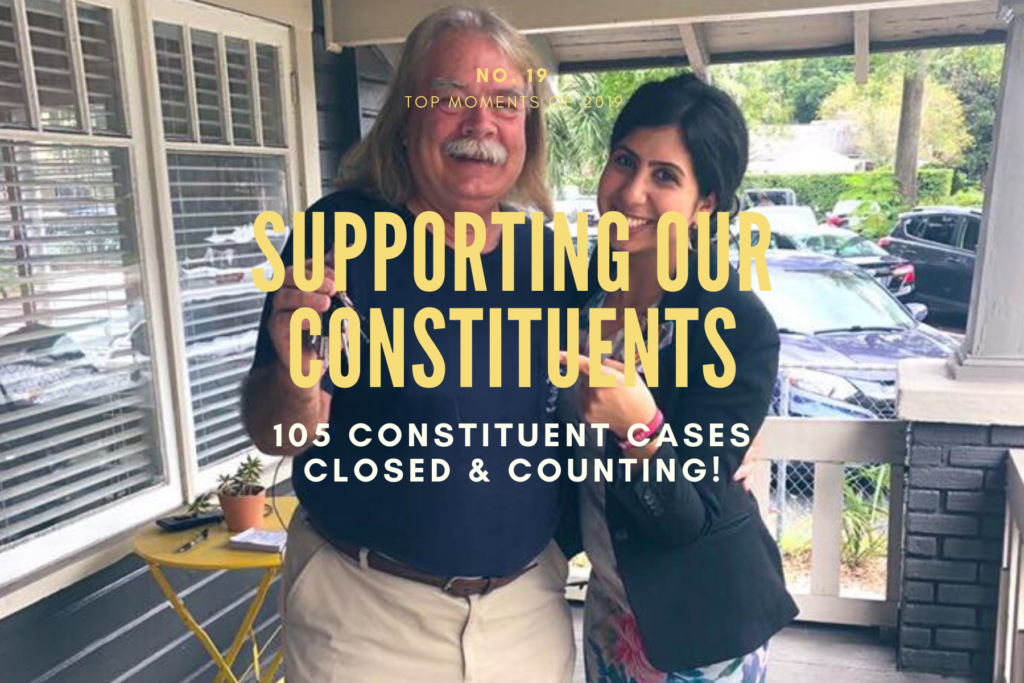 Constituent services are the heart of everything we do, and our office doesn't just support case work from #HD47—we receive messages and needs for help from across Florida and do our best to help every person no matter where they live in our state. Messages we receive include hundreds of perspectives on legislation and funding needs, to folks needing help with applying for Medicaid, Bright Futures, or navigating government agencies.
One of our best constituent moments was finding local veteran Steve a new home! After being homeless for four months, Steve came to our legislative office looking for help. Through working with local community partners, we found him a new apartment that he could afford and were able to waive his OUC fee too!
Steve is just one example of a constituent success story, but there is so much more work to do, and we are incredibly proud to do it.
THAT'S A WRAP FOR NOW! SEE YOU IN 2020!