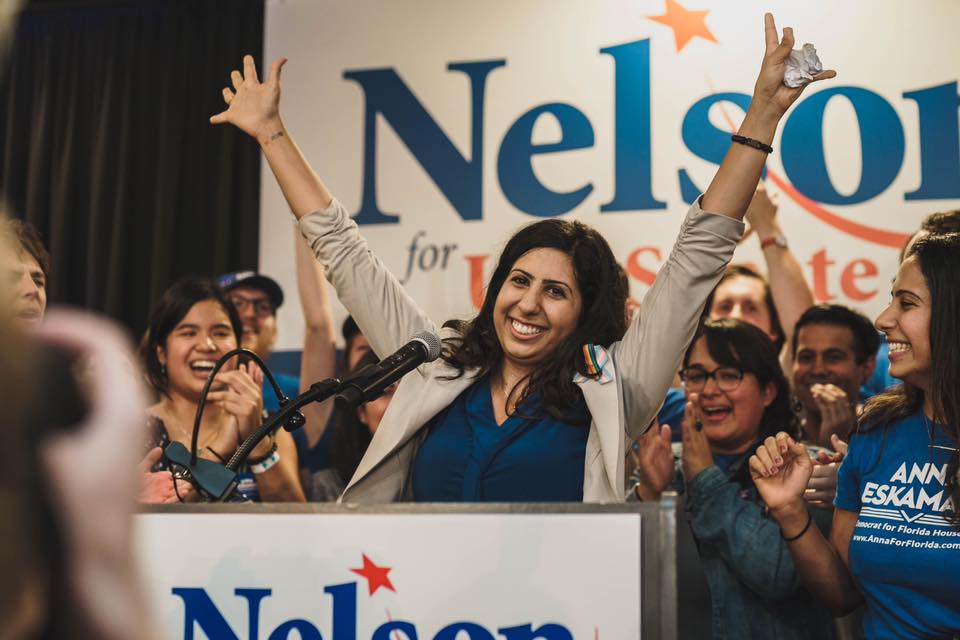 Meet Representative Anna V. Eskamani!
Anna, an effective advocate.
An Orlando native and daughter of immigrants, Anna was overwhelmingly elected to the Florida House in 2018. Since sending Anna to Tallahassee, she has demonstrated an ability to hold politicians accountable while still building consensus across party lines. A bridge-builder, Anna led the charge to increase arts and culture funding statewide by 800%, and successfully secured funding for human trafficking prevention. Anna is a leading environmental advocate, pushing forward a clean-energy agenda and pushing back against polluters. She is tackling some of the state's most complex issues, from affordable housing to health care to economic mobility. Anna is also a long-time advocate for women's rights, and has fought tirelessly in the legislature for LGBTQ equality, gun safety, and home rule.  Learn more about Anna here …
Anna's Opportunity Agenda
No Floridian should live in poverty. Anna will continue to fight for fair wages and economic upward mobility, while supporting our community's small businesses and entrepreneurs. 
Education
Anna is a graduate of Orange County Public Schools and UCF. She's fighting in Tallahassee to make sure tax dollars go to public schools and not for-profit charter schools, and she's advocating  to improve all teacher pay.
Health Care
Anna lost her mother to cancer when she was thirteen.  Her family struggled to pay for healthcare, and Anna won't stop fighting for quality, affordable health insurance, including coverage for pre-existing conditions and mental health.
Environment
Anna believes that Florida's future economy relies on protecting and preserving our natural resources, from springs to beaches. She's sponsored legislation for Florida to be a global leader in renewable energy, especially solar.
Endorsed by Orlando Mayor Buddy Dyer
Former State Senator, 1992-2002 "There's no doubt that Anna truly represents the Democratic Party's future. She is a rising star in Florida politics and in our community. She works hard each day to deliver results and gets things done for the people of Florida. I have full confidence that we will be in good hands with Anna Eskamani representing us in the Florida Legislature. It is my honor to endorse Anna Eskamani for Florida House District 47."
Former U.S. President Barack Obama
Florida Professional Firefighters, IAFF
Florida Conservation Voters
Team Anna is excited to rollout a series of campaign wallpaper designs for your Android or Apple device!  Simply click on the link(s) below to save the design to your phone. From there you can add your favorite #OnwardForAnna wallpaper as the background to your phone,...